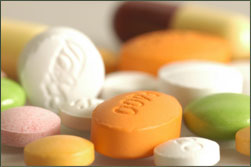 Pharmacy
To locate a provider, click here.
Don't pay full price! Save 10% to 85% on most prescriptions at over 60,000 pharmacies. Just present your card to save an average of 46% at locations nationwide.
Compare your prescription prices and see for yourself at RxPriceQuotes.com
Participating pharmacies include CVS, Walgreens, Target and many other independent, national and regional chains
Even if you have insurance, present both cards at the pharmacy to receive the lowest price
Immediate family included

Pharmacy FAQ
Q. Will I always get a discount when I use my membership card?
A. Not necessarily. Each pharmacy determines their own retail pricing.
Q. Why didn't I get a discount at the participating pharmacy?
A. Many pharmacies price some prescriptions at or below cost in order to draw customers to their store. If you present your discount card and the price is higher than the pharmacy's retail rate or sale price, you will always pay the lowest price available.
Q. What if the pharmacy doesn't recognize the card's name?
A. Always make inquiries in person and be sure to bring your card with you. If the pharmacy still has questions, have them call the Pharmacist Help Desk number on the back of your membership card.
Q. Is this a co-pay insurance card?
A. No. This membership is a discount card offering reduced prices. You are responsible to pay the pharmacy 100% of the discounted price.

Statistics
"The percentage of the population taking at least one prescription drug during the past 30 days increased from 38% in 1988–1994 to 49% in 2007–2010." CDC/National Center for Health Statistics, 2012
"In the United States, spending for prescription drugs was $259 billion in 2010, accounting for 12% of personal health care expenditures." CDC/National Center for Health Statistics, 2012
"In 2011, 11% of people between ages 18 and 64 were unable to receive needed prescription drugs due to cost." CDC/National Center for Health Statistics, 2012
"Americans filled an estimated 3.8 billion retail prescriptions in 2011 — about 12 per person in the United States, on average." Kaiser Family Foundation, 2012
"More than six in ten Americans take a prescription drug in any given year — including 90 percent of all seniors." Agency for Healthcare Research and Quality, 2010
"The average American spent $898 in Rx last year." CBS News, 2013

Pharmacy Savings Example
Drug Name

Quantity

Retail Price

Discounted Price

Savings

Percentage

High blood pressure medication (Amlodipine Tab 10MG)

30

$26.92

$7.26

73%

Antibiotics (Azithromycin Tab 250MG)

6

$29.29

$13.33

54%

High blood pressure medication (Losartan Potassium Tab 100MG)

30

$57.06

$22.85

59%

Weight loss medication (Phentermine Tab 37.5MG)

30

$26.77

$11.05

58%

Antidepressant medication (Sertraline HCL Tab 50MG)

30

$17.72

$6.88

61%

Proton pump inhibitor (Omeprazole Cap 40MG)

30

$56.82

$22.77

59%

Insomnia medication (Zolpidem Tab 10MG)

30

$37.30

$6.94

81%

Cholesterol medication (Simvastatin Tab 20MG)

30

$19.74

$7.28

63%
Based on member savings in August 2016. Prices are subject to change without notice and may vary by region.
Payment must be made at the time of service in order to receive a discount.
PARTICIPATING CHAINS
ACME Markets

A & P

Arrow

Bartell

Bi-Lo

Bi-Mart

Biggs

Brookshire Grocery

Brookshire Brothers

Buehler's Foods

CostCo

Cubs

CVS

Dahl's

Dillons

Discount Drug Mart

Dominick's Finer Foods

Duane Reade

Fagen Pharmacies

Family Care Pharmacies

Family Drug/Care Plus

Fred Meyer

Fry's Food & Drug

Giant Eagle

Hannaford

HEB

Hy-Vee

K-Mart

Kash-n-Karry

Kerr Drugs

King Kullen

King Soopers

Kinney Drugs

Klingensmith's

Kroger

Longs Drug Stores

Lucky Pharmacy

May's Drug

Medco Drug

Medic Discount

Med-X

Meijer

Marills Drug

Navarro Discount Drug

Parnida

Pathmark Stores

Quick Chek Food Stores

Randall's

Rite Aid

Rinderer's Drug

Sav-More Drug Stores

Save Mart

Schnuck's Market

Seaway Foods

Shopko

Shop N' Save

Shoprite

Smith's Food/Drug

Snyder Drugs

Star Markets

Super D

Target

The Great A & P

The Pharm

Tom Thumb

United Drug

USA Drugs

Von's

Walgreens

Wal-Mart

Weis Markets

Winn Dixie

buy now→
Benefits Provided
(All benefits are included.)
Testimonials
"I was prescribed Clomiphene Citrate, which isn't covered by my insurance. I went to my local CVS pharmacist, who told me the retail price would be $162. I did a search online with my discount card and found a pharmacy two doors down selling it for $72."
Raul L., FL
"I save $70 a month on just one prescription with my discount card. I wouldn't be able to afford it if I didn't have your plan. Thanks a million!"
Elizabeth R.
"I am presently unemployed and have no insurance, and I do not qualify for any type of aid. An emergency recently placed me in the hospital and when I got out, I needed medication for my illness. I remembered that I had your card in my wallet so I took it to Walmart when the prescriptions were filled. Imagine my surprise when the price was approximately 50% of the original asking price. This was a tremendous help now that I'm facing a huge hospital bill!"
Cindy C.
"Today we picked up my prescription and our co-pay was $25; after our Benefits discount, it was reduced by $12.83. I filled a prescription at Walmart yesterday that is regularly $220 per month, but with my discount card, it was only $173.38! I am keeping all my receipts as proof. This is the best thing we have come up with yet!"
Jerry B.
"I was paying $80 for a prescription and this program helped me because by using my card, I only had to pay $20 for my prescription!"
Donna B.
"I use an injectable medication that is not covered by my insurance. At my Target pharmacy, this medicine normally costs me $56.49 but with my discount card it was only $28.13."
Lisa M.
"Today my wife was discharged from the hospital after extensive surgery. When I went down to Walgreens in the hospital to pick up her prescription, I found out the cost was going to be $974.94 for a thirty day supply. I then gave them my discount card and asked them to the re-price the prescription using the discount drug benefit. The price came back at $364! Wow! Was I ever pleased."
John M.
"I work full-time but do not have medical insurance. One of my prescriptions (generic) costs me $63 per month. Can you imagine my surprise and delight when I last refilled it? I used the discount card for the first time and that prescription cost me only $23. Even the pharmacy tech was amazed at the savings. Of course, I realize that won't be the case on all purchases I make, but that savings really made my day and will certainly help me out in the future."
Caro D.
"I have excellent insurance. However, my plan is a high deductible plan which means every January I have to pay 100% of my prescription costs out of pocket until I hit my $5,000 deductible. I have a one pill per day maintenance medication that is $320 for a 90 day prescription by using my insurance. With my discount prescription card, I get the exact same drug for a fraction of the cost, $31.60 for a 90 day supply! My pharmacy card literally makes it possible to maintain my health!"
James H.
"I went to fill an antibiotics prescription for my daughter, and the pharmacist told me it was going to be $94. I then showed my discount card and only paid $12.62. It was a great feeling being able to fill the full prescription with no worries."
Robin L., ID