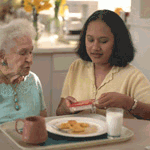 Long Term Elder Care
Give yourself peace of mind when caring for an elderly loved one. Specialists identify your needs, discuss options, put solutions in place and provide the ongoing support needed to maintain independence and quality of life. Online resources and advice over the phone help you plan and manage decisions that arise as your loved ones age.
Save an average of 10% to 15% at thousands of home health agencies and assisted living facilities nationwide
Online resources include wellness assessments, caregiver advice and an information library

Long Term Elder Care FAQ
Q. What is the Long Term Elder Care benefit?
A. This benefit is a one-stop resource for those who are concerned about or actively caring for an aging parent or family member. Eldercare experts answer your questions, identify issues and arrange help for you and your family's needs. You can also access eldercare information, personalized planning tools and other resources online.
Q. What does this benefit offer?
A. Long Term Elder Care gives you:
Eldercare Information and Referral—Eldercare experts are available 24/7 to help with eldercare concerns, answer long-term care questions and find local care
Discount home health and long-term network—You can save an average of 10% to 15% at thousands of home health agencies and assisted living facilities nationwide
Eldercare website—Access skill sheets, research conditions, find caregiver advice and an information library with assessments, tools and resources

Statistics
"66% of caregivers find it very or somewhat easy to coordinate care given by health professionals and service providers while 25% had some difficulty. Most caregivers report using other unpaid caregiver help (66%), and 35% used paid help." National Alliance for Caregiving/AARP, 2009
"The most important technological benefits reported by caregivers are saving time (77%), caregiving made easier logistically (76%), making the care recipient feel safer (75%), increasing their feelings of being effective (74%), and reducing stress (74%)" National Alliance for Caregiving/United Health Care, 2011
"43.5 million adults care for an elderly family member." Alzheimer's Association, 2011
"Adults ages 65 and older, 75% of whom have chronic conditions, are expected to make up 19% of the population by 2030, compared with 12% in 2000."CDC/National Center for Health Statistics, 2013
"More than three in ten U.S. households (31.2%) report that at least one person has served as an unpaid family caregiver within the last twelve months." National Alliance for Caregiving/AARP, 2009
"Long-term care services providers served about 8,357,100 people annually." CDC/National Center for Health Statistics, 2013
"Seventy-two percent of caregivers cared for a parent, step-parent, mother-in-law, or father-in-law, and 67% of caregivers provided for someone age 75 or older." Gallup Poll, 2011
"10 million caregivers over 50 who care for their parents lose an estimated $3 trillion in lost wages, pensions, retirement funds and benefits." MetLife, 2010

buy now→
Benefits Provided
(All benefits are included.)
Testimonials
"Thank you for your assistance in locating a safe nurturing facility for my mom that included fee negotiation. From what I have observed as a RN, and a daughter, the facility is meeting the needs of my mother, and I feel confident in my decision. Again, many thanks."
DJ H.
"My father did not meet the requirements to access his LTC policy to have a qualifying claim, however your team gets a score of 100% in my book!"
Kurtis K.
"My wife was in need of Adult Day Care. I chose a Nurse Navigator Network Provider. I am so pleased with the care my wife is receiving there. They have different activities for her to participate in, and she really enjoys going. I did not realize how much I needed a little help with caring for her. This means so much to me."
Vermland R.
"I want to thank you for helping me with my father. I was so pleased that you were able to obtain a discounted rate for him. I would like to thank you from the bottom of my heart."
Francine W.